REST IN PEACE PRICEY
Oakworth Cricket Club is sad to hear that our former player Mark Price has passed away at his home in Calahonde, Spain, where he lived with his parents.
Mark was a former professional footballer with Scarborough Town and a popular local cricketer who had played with Ingrow and Ingrow St Johns as well as at Wide Lane.
Mark was a member of the 2001 Oakworth Treble-winning team that captured the Craven League Championship, The Keighley Cup and the Wynn Cup that year. He made 97 appearances for Oakworth CC between 2000 and 2004.
Our thoughts are with his family at this saddest of times
---
DAVID GREENWOOD
The Oakworth Club is very sad to hear of the passing, after a recent illness, at Oakworth Manor on Wednesday 4th December, of former player, captain, grounds-man and umpire, David Greenwood, aged 78.
David had been a Life Member at Oakworth CC since 1995.
Our thoughts are with his wife Sylvia and their family at this saddest of times.
The Funeral at Christ Church, Oakworth was standing room only on Monday December 23rd and afterwards at the Oakworth Social Club, for a man who was a true village character.
David sits in the highest esteem at Oakworth Cricket Club and lies fifth on the all-time appearances list with 467 for the club between 1957-1982, and 6th all-time wicket-taker with 414 victims, a truly titanic life-time achievement.
For a short resume of David's playing career at his only club Oakworth CLICK HERE
---
JEFF's INNINGS COMES TO AN END
Oakworth CC is sad to report the death of one of its most prolific cricketers. Jeff Moor, who had suffered from bowel cancer. Jeff was Oakworth' top-rated bowler of the 1976-1991 period, who passed away today. The club sends its condolences to his family. The funeral will be held at Oakworth Crematorium on Friday 5th April at 11:30am, and afterwards at The Fleece Inn.
For Jeff's record at OCC CLICK HERE
29 March 2019
---
OAKWORTH SCHOOL - YORKSHIRE CHAMPIONS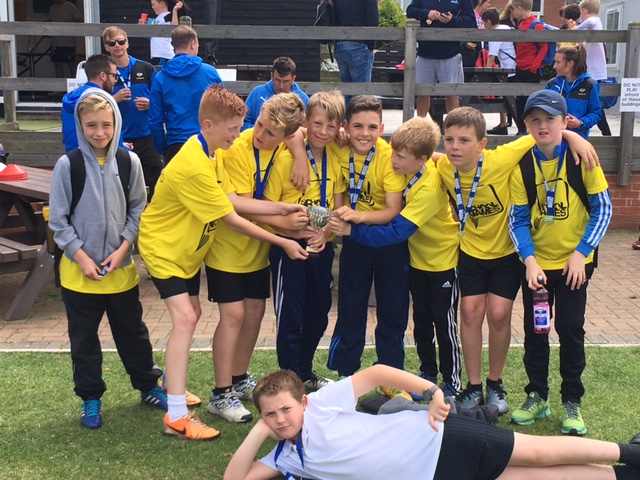 Oakworth School Year 6 youngsters are the all-Yorkshire Schools Cricket Champions.
Having won the Worth Valley, Keighley, Bradford & West Yorkshire competitions,
they are now quite definitely the number ones in the County!
They School emerged top of the pile at Hunslet Nelson CC on Tuesday from a tournament involving 16 teams from around Yorkshire! The successful team included UAJCA players Jake Keslinke, James Powell, Elis Jones, Louis Stephens, Jacob Davies, Taylor Hawkins & Connor Smith [all Oakworth CC] and Charlie Jackson [Cullingworth CC].
2017
---
MARGARET MOONEY
All at Oakworth Cricket Club send their sincere condolences to the Mooney family, following their sad loss.
Becky, Chris and John thank everyone for the messages and kind words at this difficult time.
23rd Feb 2017
---
MEMBERS NIGHT 2016
The club house was alive with players, officials and supporters for the 2016 members Night. Club awards were made to all prize winners. To see Photos ..... CLICK HERE
25th Sept 2016
---
MAJOR MILESTONE?
Since 1995 Club President Wilfrid Scarborough has headed the 'most appearances' list with 632 for Oakworth First Xl. But on Saturday 27th August after 21 years and 2 months Wilf will have to share that honour with Club Chairman, his son Michael Scarborough. Michael will reach that pinnacle at home to Sutton with his 491st appearance in the CDCL added to 141 Cup-ties for the Oaks. Assuming it doesn't carry on raining that is.
22nd Aug 2016
---
UNDER 13s TAKE FESTIVAL CUP
Oakworth under-13s completed their UAJCA Festival group unbeaten and met Cullingworth in the Final. Chasing 53 to win the victory came with 1 ball to spare following a stunning 6 & 4 from skipper Bradley Powell, whose 40 led the way.
---
JAKE STARS for YORKSHIRE u10B
Spot Oakworth' junior Jake Keslinke on the front row on his debut for Yorkshire! Jake top-scored with 26 before being run out going for a second in a 5-run loss to Derbyshire. Top man.
9th June
---
GAZ CLUB RECORD GETS OAKS OUT OF DROP ZONE
In just 131 balls Gareth Marshall transformed Oakworth's season with a club record 182no with 19 fours & 5 sixes. Oaks racked up 302-4 and although Cowling gave chase with 261-7, our first 3 points were secured. The previous record high Oaks league innings had stood since 1984 at 168 by Wilf Scarborough and in all matches at 170 by Michael Scarborough in a Keighley Cup win over Oxenhope.
14th May 2016
---
NEIL IS THE WINNER
Neil Bishop & the 2016 William Adams Trophy
---
BLACK WEEKEND
All three teams lose. Ben Howell returned to form and a late blast from Adam Smith almost took the points but Riddlesden 202-8 too much. 2nd Xl scuppered by 133 runs at the Ford, only Lewis Wrathall 46 made major contribution, Weakened Third Xi crushed at Foulridge but Ollie Bishop again stars with 3 wickets.
18th June 2016
---
WASHOUT
Drew Duffy starred with 105 against Wilsden in Oaks 2nd Xi 219-5 but the rain won in the end. The 1st Xl were again all out for a meagre score of 115, thanks to 47 from Brannan Lawn. The rain prevented further play. The starlet at the Third Xl match was diminutive 13-year old Bradley Powell who rattled off 40 against Airedale lls, who clapped him from the field after dismissal. He got off the mark with a 6 and sprayed shots all round the field as Oaks made 144-8 with support from Niall Saynor [38] and Ollie Stell [42 no]. The rain again won.
11th June 2016
---
JAKE STARS for YORKSHIRE u10B
Spot Oakworth' junior Jake Keslinke on the front row on his debut for Yorkshire! Jake top-scored with 26 before being run out going for a second in a 5-run loss to Derbyshire. Top man.
9th June 2016
---
WEEKEND WOE
Joel Fothergill claimed his first senior 5-for with 5-14 to contain Denholme at 102 all out. But the wheels came off as the batsmen failed tallying just 96. On Sunday Oaks went out of the Wynn Cup despite a last wicket stand of 41 from Lewis Wrathall and Joel and 47 to Adam Smith. Ingrow St Johns brushed aside our 151-9 with just 3 wickets down; 68 going to Imran Zaman. Our woes didn't end there as the 2nd Xl failed to defend 238 with an 8 wkts defeat by Glusburn. Sam Nettleton with 56, Drew 48 and run-machine Alan 45 helped build the good total but a late 32 from Mark Pickles scuppered our boys despite 5-72 from Jack Ellis. The Third Xl took 3 points as Chatburn opted not to travel to West End
4th June 2016
---
SECOND WIN FOR CHAMPS
Ben Howell and skipper Michael Scarborough set up a decent 170 total with 54 and 30 at Ingrow St Johns. The bowlers then really stole the show with 3-fors from Joel Fothergill and Gareth Marshall to win by 52 runs. The Second Xl faced 'Johnnies' 2nd Xl and copped a 302 posting despite 4 wickets for 14 year old Harry Hollingsworth. Oaks 156 was not enough after Jordan Powell 35 and Jack Cawood 25 did well. The Third Xi collapsed from 88-2 to 93 all out, unbelievably losing 8 wickets for 5 runs. Hamzah Khan continued his good run with 41 and 2 wickets. The bowlers performed superbly taking 7 CI wickets before going under. The pick were swing-king Ollie Bishop 2-30 and speedster Bradley Powell with 3-18.
28th May 2016
---
THIRD Xl FIRST WIN
The First Xl reached 145 all out thanks to 53 from veteran Steve Powell in a late stand with Michael Davison. Rain intervened as Crossflatts closed in on 3 points. The Second Xl never left Oakworth as Thornton was declared waterlogged. The Third Xl made a well-earned 173 with 93 for Graham Fothergill at the heart of things with 9 sixes. Hamzah Khan added another 41 to his growing tally. The young bowlers all had a stint with Harry Hollingsworth picking up 2 wickets in his first over and later three catches. Hamzah added 2 wickets as did cousin Bilal Khan as Hepworth & Idle were skittled for 98.
21st May 2016
---
20-20 FORMAT DEFEATS 2nds. COWLING CUP GONE
After many regular 2nd team players were unavailable, Denholme 2nd s scored 143-3 in their 20 overs with 76 coming from opener Michael Dennison. Our best bowler was Joel Fothergill. Chasing we fell short by 4 runs despite a great stand from skipper Drew Duffy 53 and James Lee 48.
15th May 2016
---
CUP FINAL REPRISE DEFEAT
Continuing to improve, our First Xl again failed to take the points by a 26-run margin at Beckfoot Lane. 61 from Kiwi Sam Porter led Congs to 201. Jack Davison's leggies returned 4-70 and was backed by 3-28 for Adam Smith. Congs new signing Mohammed Adil picked up 4-38 as only Jack [53], Brannan [23] and skipper Michael [31], batting at number 9, made major contribution to 175-8. A great batting wicket at Wide Lane allowed Bradley to rattle up 207 with opener James Heseltine taking 104no from the 2nd Xl attack. Oaks opener Alan also continued to enjoy his higher level cricket with 51 and the cracking 89 from James Lee proved the match-winning innings, carrying us to 211-4 in 38 overs and 3 from 3. Third Xl skipper this week, Steve Powell gave the young lads their head and a 50% improvement in return repaid that faith. Sandy Lane lls tallied 257 but the youngsters bowled them out with 2 wickets each for Ollie Bishop, Bradley Powell and Lucas Keslinke. With the bat we posted 111 in 39.4 overs with Bradley [16] and Bilal Khan [15] leading the way, helped by Hamzah [15] and Steve [16].
8th May
---
DERBY RIVALS EDGE THE POINTS
An improved bowling performance limited Haworth to 139-8 with 78 coming from you-know-who Jamie Rowell. After finding his feet 15 year-old Joel Fothergill on debut returned 4-27 in 11 overs to really make his mark. Oaks reply was built around 33 from Matty Lee but his lbw brought a collapse to 124 all out [R Ellis 4-44] after an entertaining last wicket stand of 19. The 2nd Xl continued their dominance of Division Two, seeing off Chatburn by 68 runs. Once again Jordan Powell led the batsmen to 167 with 65 from 45 balls. Ollie Stell 4-9 in 5 overs and 2-12 for 13 year old Harry Hollingsworth brought the home side's knock to an end at 99. Our youngest Third Xl for some years found themselves up against the promotion favourites Barrowford lls and not surprisingly lost. But there was 26 runs and a wicket from promising Hamzah Khan as the home side overhauled our modest 76 with 2 wickets down.
30th April
---
JORDAN BLITZES AIREDALE
Four wickets from James Lee with 3 from Rich Cavender and a frugal 2-7 for Joel Fothergill restricted Airedale to 130 all out [Matt Cox 84] against Oaks lls. Then after a poor start Jordan Powell smashed 9 fours and 5 sixes to compile a match-winning 82 no. Jordan was aided and abetted by Alan Fothergill, making his league 2nd Xl debut at Wide Lane. Alan scored a steady 25 to ensure Oaks got over the line in just 25.1 overs. Meanwhile the First Xl relied on Jack Davison 32 and Brannan Lawn 51 to rescue their innings from 45-5 to 154 cll out. But the Embsay batsmen were in no mood to let Oaks off the hook and Josh Robinson 85no steered them to an emphatic victory in under 30 overs. The Third Xi were badly let down by the Council, who failed to prepare the Bronte Fields ground and the match was called off on Friday.
28th April
---
77 SIGN ON
15th April was registration night for Oakworth cricket club juniors and parents. The Club house was open from 5pm till late and there was 2 quizzes to enjoy and a raffle. A massive 77 members signed-on the night!!
15th April
---
GOOD LUCK JACK
Oakworth CC wishes opening batsman Jack Hainsworth all the best in his bid for Bradford League glory. Jack [24] has joined Baildon CC in an ambitious attempt to further his career at a higher level. At Oakworth the precocious young batsman has made rapid progress and claimed his second Championship winners medal in the Craven League in 2015. Jack from Cross Hills joined Oakworth juniors in 2005 and quickly gained promotion in 2008 to the First Xl for which he has now amassed 4,222 runs at a cracking average of 30.37. We wish him good luck at Baildon.
12th March 2016
---
FIRST WEEK FIXTURES POSTPONED
The Craven & District League Executive have decided to postpone the 1st fixtures of the season to 17th September in view of the still waterlogged nature of most grounds.
11th April
---
JUNIORS SIGN-ON
This Friday 15th April is registration night for Oakworth cricket club juniors. The Club house will be open from 5pm till late and there will be a quiz at 7pm and raffle. Raffle prize donations would be appreciated. The bar will be open and there will be food. A stall in the changing room will sell 2nd hand cricket gear . The cost for registration will be: junior player £15, social member £10 and £5 for 2nd social member in same house holder.
---
JUNIORS AT UAJCA TRIALS
UAJCA trials on 10th April saw 9 Oakworth juniors being put through their paces. Those attending were Jake Keslinke, James Powell, Kalem Ogden, Lewis Brown, Subhaan Ahmed, Bradley Powell, Bilal Khan, Oliver Bishop and Lucas Keslinke. Also participating was Owen West, who confirmed he is joining Skipton CC, following his family home move to Malham. Thomas Rowell and Jacob Davies would also have been at the trials but both are on holiday. Selection for UAJCA teams should be announced over the next week.
11th April
---
U17s & U15s NO GO
Due to a shortage of players, Oakworth will not be running an under-17s or under-15s team in 2016.
March 15th 2016
---
LEWIS JOINS OWEN
Congratulations to Lewis Brown of Oakworth CC who joins club-mate Owen West as a participant on the 2016 YCB Pathways to Excellence programme. Lewis was successful at the recent YCB trials at South Craven Centre and joins Owen, who also made the programme in 2015 and is retained for a second year.
---
STANLEY's INNINGS ENDS
Oakworth CC is saddened to learn of a fourth loss of a former player this winter. Stanley Moules passed away on 1st March, aged 95. He was interred at a private family funeral. Stanley played for Oakworth between 1948 and 1974, making 123 appearances. To see Stanley's record, please CLICK HERE
---
OAKS u13s INDOOR CHAMPIONS OF YORKSHIRE!
Following the success of our u11s at the Cricket Asylum, the Oakworth u13s have now been crowned indoor Champions of Yorkshire.......
April 3rd
17th March
---
UNDER-11s WIN AT THE ASYLUM
Congratulations to Oakworth Under-11s on their win in the Cricket Asylum winter indoor tournament. The team was [L-R] Max Harrison, Charlie Raby, Elliot Robinson, James Powell, Lewis Brown [Capt], Jacob Davies, Thomas Rowell and Jake Keslinke. Brilliant - another step in the team's continuing development. See Report
---
FRANK MORLEY
Oakworth CC is very sad to report the passing away of it's former opening batsman Frank Morley on Sunday 10th January 2016.
The entire club offers sincere condolences to his wife Barbara and sons Philip and Paul. He leaves 4 grand-children. His funeral service was held on Friday 22nd January at Christ Church, Oakworth.
To see a cricket obituary CLICK
24th January 2016.
---
FORMER OAKS PLAYERS PASS
The close season has seen the sad losses of 2nd Xl player Dougie Street [76] and former First Xl player Jack Anderson [71] within the month of December. For a profile of Jack's cricket at Oakworth, please CLICK HERE
---
YVONNE LAWN
Yvonne Lawn has sadly died following treatment for cancer. A Bradford City announcement said Yvonne died peacefully in her sleep after a long battle with the illness. Mark and his family have asked that people respect their privacy during this sensitive period. The funeral was held at Bradford Cathedral at 12:30pm on Friday 12th February.
Yvonne had been a long-time, enthusiastic supporter of Oakworth Cricket Club, where her son Brannan plays. The club sends sincere condolences to the Lawn family.
13th February 2016
---
OAKWORTH CC MEMBERS NIGHTS

On an emotional Members' Night, Oakworth CC premier award, The William Adams Memorial Trophy was awarded by Chairman Michael Scarborough to the late Simon Howell. It was collected by partner Jane and son Ben.

Gareth Marshall 2015 winner of both Batting and Bowling awards for the First Xl

Ben Howell receives the Frank Woodward Memorial Trophy for the best performance by an u21 player for his 112 vs Foulridge. He is Oakworth's youngest ever centurion.
Proud Second Xl skipper Steve Powell receives the 2015 Cowling Cup and The Stanley Barker Trophy [Div 2 Championship]
Under-11 Subhaan Ahmed was honoured by the Yorkshire Festival [Taverners] committee with their u11 2015 Batting Prize
Thanks to England's Adil Rashid for the shirts - they've helped raise almost £300 towards the junior bowling machine
Under-9 Jake Keslinke wins the 2015 SA LABELS TROPHY for Junior Performance of the Year [33 & 3-3 vs Skipton to win UAJCA batting award]
---
SIMON
Please click here for pictorial tribute and cricketting obituary to the late Simon Howell [1966-2015]
---
Manorlands Postscript
Oakworth CC is pleased and proud to announce that the clubs' recent hosting of the Manorlands Plate in aid of the Sue Ryder Hospice at Manorlands at Oxenhope has raised the magnificent sum of £1,741. The sum is to be handed to the hospice by Craven & District League officials. On a fine sunny Sunday the 'gate' receipts [which included raffle entry] raised a very welcome £510 whilst the £1 per pint donation from the Oakworth bar chipped in a cracking £564 with a further £70 coming from the collection tin on the bar. The day-long barbecue, organised and run by Simon Howell along with young club helpers raised a staggering £344, which added to the contribution from sales of teas, breakfasts and cakes enabled the 'refreshments' element up to a magnificent £597.
Oakworth CC would like to thank everyone who helped on the day and who contributed so generously to the worthy local cause.
---
MARK ARTHUR ATTENDS UAJCA PRESENTATION NIGHT
And the County Championship Trophy too!!
UAJCA guest of honour at the Rendezvous Yorkshire CCC Chief Executive, Mr Mark Arthur brought along the County Championship Trophy and player Richard Pyrah so cameras and camera-phones were at the ready!! Everyone acclaimed Championship and Individual achievers for 2015.
Some of the Oaks boys enjoyed themselves
JAKE & JAMES PLAY PART IN UAJCA TRIUMPH
Jake Keslinke continued his top notch form in the 2015 Cricket Asylum Plate Final at Carlton CC.
His club-mate James Powell took full part and picked up the man-of-the-match award from Yorkshire u10 coach, Steve Holliday.
Jake 3-1-11-2, James 3-0-3-2
MANORLANDS MAGIC FOR DEREK
After a frustrating wet Saturday in Oakworth with no play, there was concern one highlight of the Mewies Solicitors Craven League season, the Manorlands Plate, might succumb to the elements. Thanks to covers at Oakworth and hard work from Grounds-man Wilf Scarborough and his team, play got under way.
The Plate was to be contested by winners from the 2014 Craven League first & second divisions (Ingrow St John's & Sutton ) and winners of the Wynn Cup (Oakworth). Long Lee were invited to mark their association for over 60 years with Derek Granger, in whose memory the competition was dedicated this year. Between the first two matches, Oakworth President Wilf Scarborough thanked everyone for coming and Paul Stowell, long time player with Long Lee and friend of Derek, led a one minute applause in memory of the former umpire.
The first match saw Long Lee All Stars (a Long Lee wag put it, 'Old Stars) take on Sutton, with Sutton amassing 193. Ryan Ridehalgh was star of the innings with a magnificent century [inc 9 sixes] inside 12 overs. All Stars were never in the hunt losing by 70.
The second match saw Oakworth make a bright start thanks to Jack Hainsworth & Ben Fothergill. Once they were out the innings subsided and the hosts were all out for 109, for most not anywhere near enough. But as often in cricket, pressure of batting second on a wicket providing assistance to bowlers, began to tell. After starting well, wickets fell and slowly the pendulum swung to Oakworth, thanks to a spell of 3 for 4 in 4 overs by Jack Davison,
great fielding, including a spectacular one-handed catch from Hainsworth, before 18 year old Ben Howell finished the innings off, with ISJ 10 runs short.
In the final, Oakworth again made a strong start. When Sutton took pace off the ball, wickets fell when batsmen hit out. 134 looked competitive but not insurmountable, particularly with Ridehalgh opening for Sutton. Ridehalgh, who plies his trade with Ilkley in the Aire-Wharfe League took a fancy to Davison's bowling taking 18 off one over. The score was 29-0 after 2. Davison got his man in the 4th over, aided by a Brannan Lawn stumping. Richard Cavender was introduced to the attack and saw off danger man David Snowden and applied the brakes. From that point on, the Royd Hill side were up against it, Oakworth eventually winning by 30 runs.
The Manorlands Plate was presented to Oakworth Chairman & Captain Michael Scarborough, on behalf of Manorlands Hospice by nurse Dawn Sheridan. League Fixture Secretary Trevor Coe gave thanks to the Oakworth Club, President Wilf Scarborough and all helpers, who made the day a huge success, which he was confident would result in a healthy donation to Manorlands.
---
Another Final !!

Oakworth CC 2nd Xl [aka 'the other 1st Xl'] have reached the Final of the Cowling Cup after a clinical demolition of 4th Division Crossflatts lls in the semi-final. Batsmen Matty Lee 31no and Chris Mooney 12no finished the job after bowlers Ricky Linden 5-23 and Rick Cavender 3-5 set up the emphatic win, bowling out the opposition for just 47.

With both Xls at the top of their respective Divisions and in their Cup Finals, expectation is now running high. Good luck on the run-in boys.
---
50 YEAR REPEAT FOR OAKS IN CUP FINAL
Oakworth's First Xl have for the 12th time in 16 seasons reached the Final of The Wynn Cup. Last year's winners will defend the Cup against Bingley Congs, who defeated Crossflatts in the other semi-final.
The two clubs have met twice before in Cup Finals, the first time 50 years ago when Oakworth reached their first ever Cup Final against the Congs in 1965.
1965 flashback....... A strong dose of Cup fever had grabbed the club and not just the exploits of the newly promoted Leeds United in the FA Cup, but the teams own progress to their own first Cup Final. A first round ten wickets thrashing of Haworth Meths had produced the club's first documented 100 opening partnership (Laurence Bankhead 60 not out) against opponents used to dishing it out to Oaks. The Keighley club's Lawkholme ground was the venue for Oakworth's first tilt at the Cup in 72 years as a League club. The Oakworth opening bowlers Richard Harris and David Greenwood did a grand job of containing the Bingley batsmen, Harris coming up with excellent figures of 4 for 33. Bingley totalled only 105 and they were indebted to D Petch who ground out 47 priceless runs in
true Boycott fashion (127 minutes) to give their score some respectability. Oakworth were very strong favourites to reach their modest target but that man Petch chipped in with 4 late wickets for only 12 runs to back up Mountain's earlier 4 for 34. Cyril Pegg and Laurie Bankhead gave Oakworth a 23 run start but Bankhead remained the side's top scorer with 19. Pegg made 11, Greenwood a late 15 and veteran Jack Lancaster 12, everyone else failed to reach double figures on a bowlers pitch. Oakworth finished well short with a total of only 80 in reply and Bingley deservedly took the Cup.
So Congs ran out winners on that occasion.
The second meeting was 6 years ago in the 2009 Wynn Cup Final. Congs again batted first making a terrific 231 and despite 62 from Michael our reply ended at 195, 36 runs adrift.
So is it to be third time lucky for Oaks? Current league form suggests they might as on 13th June Oaks smashed 291 against the Congs and claimed the points by 111 runs. But Cup Finals are notoriously unpredictable, especially for Oaks, having lost 5 of their 11 Wynn Cup Finals
---
TIM's 250
Oakworth Keeper Tim Walsh, is the latest milestone reacher at Oakworth CC. Tim has now racked up 250 appearances for Oakworth First Xl and he did it at the [Tied] Wynn Cup Final at Haworth. His innings of 17 assisted Jack Davison to rescue our innings and match the Congs total. Congratulations Tim.

Tim's has taken part in

187 CDCL matches along with 20 Keighley Cup ties, 41 Wynn Cup-ties and 2 Yorkshire Champions since his Oaks debut in 1998. in those he has 1,738 runs at an average of 16.55 with abets of 76. His keeper count of victims currently stands at 305 catches and 47 stumpings !!
---
MICHAEL MAKES HISTORY
Oakworth Chairman and First Team captain Michael Scarborough, has finally reached a wonderful milestone. As Oakworth's all-time leading wicket-taker his tally of league wickets has reached the magnificent mark of 1,001, following a brace at Haworth Road today 25th July 2015. The magical 1,000th victim came in Michael's 601st appearance for Oakworth First Xi and his victim was Will Burgess who was bowled. Michael went on to clean dismiss Dil Nawaz, caught by long-time buddy Tim Walsh behind the timbers to end a great day for Oaks with 2 for 24 from his 10 overs . His day was complete with 17no and seeing Oakworth take it's 11th win from 15 league matches this year and the Oaks still sit at the head of the First Division
---
Owen makes the breakthrough
Oakworth CC is advised by YCB via UAJCA that Owen West has become our first YCB Pathways student, having succeeded at the County trials. He has now attended the Harrogate Bronze Centre during the winter. He is now eligible [as an u12] to play senior cricket. OCC congratulates Owen on his success. We all look forward to seeing him making his Yorkshire debut. Come on the rest of your hopefuls and follow suit!!
---