UNDER-11s EXIT CUP 16th May 2022
Oakworth u11 bowlers struggled to contain the Harden top 3, all Taverners. Arthur Moses did induce a good catch from Joe Whittaker from Sulaiman Mahmood [18], but Padgett and Noble both retired. The final 16-over tally for Harden was 74-1, arguably near to par. Skipper Albie Ellis led from the front making 19, out caught going for the big hit. Charlie Lee also showed top form with a six in his 21 but the depth wasn't evident as we closed 6 runs short despite valiant efforts from hardball debutants Neve Garbutt [5no] and Zack Warren-Firth [9]. Noble and Mahmood each took two wickets. We will now concentrate on the Festival [June 19th] and the League Championship.
---
NEW BOYS CONGS CONQUERED 15th May 2022
It was 10-aside for both teams at sunny Beckfoot, Oakworth batting first. This time Oakworth benefitted from 32 wides but could add only 20 from the bat. Another ten went to William who likes the air in Bingley! The 246 tally was a good platform for our bowling. So it proved as the Congs batters also struggled with the bat in hand but in trend we again gave away 28 wides to keep the home side in the hunt. But a brace of wickets each for Rose and Noah settled nerves despite a fine 17 from Congs' Georgia Bailey. Congs ended on 226-7 after wickets also for Charlie, William and Harvey. Four out of four and next up is Long Lee at Home.
---
NOAH & WILLIAM LEAD SOFTBALLERS TO CUP WIN 13th May 2022
Also batting first our softball team took on Harden in the Cup at the Cuckoos nest. Aggression from Cody brought him 6 runs whilst Harvey was focussed on defence but did get out twice. Evie matched Cody and partner cousin Rose stayed unbeaten. William and Oliver led a charge with William again liking the Harden pitch with 7 and 4 to Oliver, again no wicket losses. Final pair Eli and Noah put bat to ball and despite a run out for Eli he made 6 to back a fine 10 from Noah. We had posted 239-3.
Harden struggled with our bowling although we made up for them by gifting them 27 wides. The hosts tallied just 10 from the bat but ended on 217-4, 22 adrift. Noah once again produced a miracle catch and William picked up another 2 wickets despite some wayward bowling. Eli and Noah also added a wicket apiece in a great win. Skipton at Home in the next round 27th May.
---
THRILLER KEEPS STEETON AT BAY 13th May 2022
Oakworth batted first against Steeton u-11s in what proved to be one of the best matches seen at Wide Lane. Openers Beau and Henry added six for 1 wicket including a first ever boundary in hardball cricket for Beau. Second pair Jacob Wilkinson and Arthur Moses also added 6 for 1 wicket, Jacob also with a boundary. Third Pair Neve and Leo were doing a grand job with Neve in her first hardball game smashing a cracking four. But disaster struck Leo three times, twice run out, struggling with mobility. Sam and Charlie kept wickets intact with another 6 runs added. We stood well below the 200 mark and last pair Albie and Jack took up the challenge and between them added 21 runs but a last over dismissal for the skipper pegged us back to 199-7.
With the ball things began to change in rapid order. Albie and Arthur picked up a wicket each with Sam soon joining in. Steeton now were also below the 200 par. But a flurry of wickets for Jack, Albie and Arthur knocked another 24 off the Steeton tally. Henry grabbed a key wicket to put Steeton under a lot of pressure as the vital 8th wicket was a second dismissal of Harry Sugden [Sam had the earlier one] who had 1 run at the time but he responded well 15 runs thereafter. The last pair arrived at the crease and Oakworth were on a roll. The final bowlers were Jacob and Neve and they held their nerves and conceded only 2 wides and a no ball with Neve putting in 2 maidens! Steeton ended still 7 runs adrift and our lads and lass had claimed a remarkable come-back win.
---
TEN-ASIDE LOCAL DERBY WIN 8th May 2022
Haworth soft-ballers came across the Burn and posted 46 for the loss of 3 wickets [Nett 231]. It wasn't our finest bowling performance but top bowlers were Evie Moses and Harvey Hollingsworth whilst Zac Hutley claimed a wicket in his debut match.. The innings highlight was a stunning catch from Noah Goldthorpe who again showed continuing progress. There were debuts for Ben Whitaker and Lucie-Jo Colgan. The Sharks batting too was a little subdued with skipper Eli Kent topping the pile with 5 alongside debutant Zac Hutley who picked off 4. When the dust had settled the Oakworth score was also 46 but they had lost 2 wickets and so ran out the winners by 5 runs.
---
JOE HAD A GO AND TAKES 2-7 IN 2nd WIN 5th May 2022
Harden again proved a happy hunting ground as skipper Albie Ellis [14] and Sam Charmbury [11] added to the 8s from Arthur and Jack. Three Ha4den bowlers Sophie Buttery, George Gerdes & Max Rigby each picked up a brace of wickets to peg us back from 75-6 to Nett 227-3.
Harden had early runs from Taverner Max Rigby [8] a score matched also by George Gerdes and Harry Wood. It was surprise package Joe Wood who led the Oakworth fightback and his 2-7 was vital. There was wickets for Arthur, Albie and Sam to hold Freddie Padgett to 14 in a 59-6 tally [212 nett] also thanks to a smart run out from Jack Goden.
---
SOFTBALL TEAM WIN BY 7 AT HARDEN 1st May 2022
A bright Sunday morning at Harden proved an entertaining match. Bowling first skipper Eli and Noah each bagged a couple of vital wickets with Rose also getting in on the act. Harden tallied 228 [nett]. With bat our defences proved strong and William added aggression to his stroke-play and came away with 13 to his name. Everyone chipped in well and only 2 wickers were lost, which enabled us to sneak home by 7 runs [235 nett]
---
TWO OUTTA THREE AIN'T BAD 30th April 2022
The 2022 junior season got underway with Oakworth under-15s at Steeton CC. The hosts' opener, Tavs Will Oakden led their batting with 28 to a total of 91-3 in 16 overs on a cold night. Wickets went to skipper Dan Snowden and debutant Lyndon Kent with a run-out added in. But the batting order fell to 22-7 in the face of accurate bowling from Jack Gibson and Caleb Gledhill. Logan Scarborough [8no] and keeper Jake Bailey [11no] allied with a generous 28 extras from Steeton produced a 59-7 response.
The boot was on the other foot at Oxenhope on Thursday as Oakworth u18, the reigning Champions, showed enormous power smashing 230-1 in 16 overs!. A league record. The top three were immense with half-century retirements for Jacob S, Jake and James. The pain was further increased for the home side by skipper Charlie [20] and new lad Max Hibbert [14 no]. Some spirited batting by Oxenhope as in vain and their reply reached just 75-6 as skipper Charlie Raby grabbed 4-2 with his dynamic leg-spin
Finally at Harden on Friday the under-13s batted first making 88-4 thanks principally to classy retirements for openers Harry Robinson and Regional prospect Joe Powell supported by 14 from Haroon Nazam. An excellent opening response from left-hander Jack Richmond [27 ret] was well backed by Sulaiman Mahmood [21 no] and Alfie Falkkngham [17]. The lbw for Alfie came at the pivotal moment and left Harden needing 7 to win from the last over. Two wides from Harry Wilkinson reduced that to five. But he regained his composure and conceded just 2 runs for an Oakworth narrow win by just 3 runs. But what a great match.
---
OAKWORTH PRIZES FROM UAJCA 1st October
Nine Oakworth players maintained club tradition and brought back 12 individual prizes along with the under-18s Championship Trophy from Friday's UAJCA Awards. Pride of place this year goes to Ellis Marshall who picked up the u18 Cricketer-of-the-Year Award to add to his Bowling award. The under 15s were also to the fore and success went to Jake Keslinke [batting & fielding], Jacob Stephens [Keeping] & Waleed Raja [Merit]. Tom Raby kept the u-13 flag flying with a joint fielding award. Albie Ellis couldn't make the Awards Night but has won both batting & bowling Prizes for the under 10 Development Squad.
The new UAJCA Development Programme had 18 awards on offer and Oakworth picked up three with a Gold for Eli Kent and a Silver for Jess Buxton in the 'Progress' categories whilst first year player Neve Garbutt was awarded a Bronze 'Newcomer' Medal.
Neve Garbutt [pictured on the left with team mate Jess Buxton] arrived late but still got her Newcomer's Bronze award from Northern Diamonds Rachael Slater.
The UAJCA campaign picked up again after the heafty defeat by Bradford, and Nidderdale arrived at Oakworth for the second match. Batting first UAJCA fell to 35-3 before Jake Keslinke [Oakworth] joined Henry Meynell [Bradley]. The pair settled well, and gradually their current league form emerged. They added 123 with the lion's share falling to Jake.
JAKE ON FIRE FOR UAJCA 3rd August
The UAJCA campaign picked up again after the heafty defeat by Bradford, and Nidderdale arrived at Oakworth for the second match. Batting first UAJCA fell to 35-3 before Jake Keslinke [Oakworth] joined Henry Meynell [Bradley]. The pair settled well, and gradually their current league form emerged. They added 123 with the lion's share falling to Jake who was caught & bowled by Johnson for 86 from 80 balls at 158-4. With help from Max Seddon [26] of Settle and Elis Jones [14] of Oakworth, Henry remained not out 52 [90 balls] to carry UAJCA to a cracking 233-7. The Nidderdale reply also got off to a poor start at 21-3 thanks to all three wickets falling to the rapid Hammad Hussain [Embsay]. Then a stand of 130 by opener Murray and Morley wrestled the initiative back to the visitors. It was a fabulous match with Morley riding our dropped catches to amass a match-winning 133 no. With no 8 Johnston [36] they reached 237-6 in the 37th over. Hammad had bowled superbly to finish with an amazing 5-38 from his allotted 9 overs, Henry picking up the other scalp. New lad in the squad, keeper Will Caygill [Skipton] did well with 3 catches.
Jake Keslinke pictured with Harry Brook in 2018
In the final match at Richmondshire CC, our boys really showed class with the skipper, Oakworth's Jake Keslinke this time picking up his first century with 101 retired no from 83 balls. He stroked 15 lovely boundaries. This time the backing was solid with u14 Adam Harding [Embsay] grabbing 29 as did Elis Jones [Oakworth]. Debutant Mustapha Hussain [GHC] started with 27 and there was 19 for Waleed Raja [Oakworth] and 17 for Elliot Ashley [Skipton]. The final tally was 260-4. The Hambleton innings reached 49-3 but the rate was well adrift of our target. No 6 Will Shaefer made 50 no but our bowlers remained on top throughout. Max Seddon [Settle] returned 6-1-14-2 and Adam Harding 6-1-22-2 whilst Waleed Raja [Oakworth] recovered his lengths from the previous day and 4-3-3-1 was his reward. Freddie Smith [Skipton], Mustapha Hussain [GHC] and Elliot Ashley [Skipton] all picked up a wicket in a terrific all-team performance that restricted Hambleton to 146-9.
---
JAMES BLASTS EAST & CENTRAL 28th July
Playing for West Yorkshire against East & Central Yorkshire in a Regional T20 competition at Ampleforth, Oakworth's James Powell smashed 94 runs from just 50 balls to lead his team to a 21-run win. He hit 15 fours and 2 sixes. He was the senior scorer in partnerships with both Yusuf Malik [19] and of 70 with Ayaan Khokhar [31] of Great Horton Church, another UAJCA player. West Yorkshire tallied 165-6.
The partnership with Ayaan is particularly pleasing to note.
The East & Central reply was led by Kai Nicholson [55] but petered out at 144-7.
Brilliant James, at last your talent is getting the stage it has long deserved. Coming on the same day that Will Luxton top scored for the Senior County Xl with 68 at Scarborough, its another example that a small League like UAJCA can still bring through quality players.
---
U13s BOWL OUT STEETON 23rd July
Captain Tom Raby again shone with the bat adding another 28 to his seasons' tally with only 1 dismissal registered. Ollie Thompson also reached double figures [10] and there were solid contributions from Eli Henson and Daniyal Mohammed. The 74-9 total was arguably below par with Steeton's Austin Joseph 3-5, Daniel Hutchinson 2-0 and the impressive Louisa Hutchinson 1-2 all keeping our boys in check. An early breakthrough from Daniyal set a tone but a stand of 24 from Taverners Archie Cox [8] and Caleb Gledhill [12] held us up. But 3 wickets fell with the score on 34 and at 34-5 Oakworth now looked strong after a sequence of poor fielding and dropped catches. Ollie picked up 2-6 whilst skipper Tom with Eli each grabbed 2 wickets whilst conceding no runs. Steeton were all out for 49 and our boys leap-frogged them into 3rd place in the South Conference table. A remarkable performance and a well deserved victory.
---
UNDER-11 CUP SEMI-FINAL Re-SET 21st July
The long-outstanding Cup Semi-Final versus Skipton u11s will take place on Wednesday 1st September at 6:30pm at Skipton CC.
The Final is provisionally to be organised on Sunday 5th September at a venue to be confirmed.
---
COMING UP SOON...
22nd July under-11 away vs Long Lee, 6:30pm
23rd July under-13 home vs Steeton, 6:30pm
25th July under-9 home vs Cullingworth, 10:00am
26th July under-15 home vs Skipton B, 6:30pm
29th July under-18 away vs Skipton, 6:30pm
---
UP TO 2ND FOR 15s 13th July
A sunny evening provided light on Oakworth 15s resolve to push for the Championship. Opener Jacob Stephens dominated the opening overs and his retirement on 37 from 30 balls set the tone nicely, partner James Powell caught up well and his 38 from 42 showed a big total was on the cards. No 3 Jake Keslinke opened up aggressively and with 3 sixes and 3 fours his 39 came from just 23 balls. Jake had company from Louis Stephens whose 21 came from 22 to keep the ball rolling over the white line. He was caught behind for a wicket to Jack Caton but the Oakworth tally reached 148-1. Bradley reached 42-1 before a second wicket fell [Caton] but as expected the classy Henry Meynell remained defiant in the face of his former team-mates. Jake Keslinke picked up 2-8 with off-spin with further wickets for Harden quartet Jake Holroyd, Ben Elphee, Freddie Kettle & Freddie Gregson and emerging youngster Mohammed Saad satisfied with 1-3 from his 2 over stint. Bradley subsided at 82-9 with 7 balls to go with the impressive Meynell on 37 no. The win pushes Oakworth into second place on 18 points, 3 behind Settle but with a match in hand. The difference in NRR narrowed significantly with Settle still ahed on 2.45 to Oakworth 2.29. Its going to the wire!
---
FLATTS FLATTENED 1st July
At Ryshworth Park the Flatts batsmen were under the cosh of our u-11 bowlers with impressive control from skipper Joe Powell, Haroon Nazam and Jacob Wilkinson, who also bagged a superb catch alongside debutant spinner Adil Hussain. Only keeper Max Bailey from the home team made runs with 21 as his team lost 7 wickets. Some very wayward fielding from the Flatts didn't help their cause and Archie Dobson [20], Freddie Greathead [13] and Harry Robinson [21] took full toll. Our 264 was well ahead of the Flatts 203 [112-6 vs 59-7] as we took our points tally to 18, still 6 behind GHC.
---
CHURCH BLASTED 25th June
The two-tone blue T20 kit was again on show at the latest UAJCA under-18s match with Great Horton Church. Our bowlers were in fine fettle, none more so than Charlie Raby [3-13] and Ellis Marshall [3-6], who cleaned up the tail in 6 balls. There were also wickets for Bradley, Bish and Jake as the Church were all out with 7 balls left for 94. But the blitz which followed was remarkable after a duck for Bilaal, as Bradley Powell rattled off 51, James Powell 16 and Ellis Marshall 22; all in just 35 balls as the weather threatened. GHC bowler Kaif Malik went for 41 in two overs! 96-1 grabbed the points and also leadership of the T20 competition, with a huge boost to our net run rate.
---
FRIDAY PRACTICE 25th JUNE CANCELLED 22nd June
Due to the outbreak of Covid-19 at Oakworth School, u9 & u11 practice is suspended until further notice. The matches currently scheduled for 24th, 25th, 27th & 28th June will also be re-scheduled by arrangement.
---
CUP FINALS POSTPONED
Oakworth CC u15s CUP FINAL vs Gt Horton Church, scheduled for Srttle CC on 27th June is now CANCELLED to enable player to play at Regional level. A new date and venue will be arranged shortly.
The under-11s Cup semi-final with Skipton is also postponed due to covid-19 isolations. Again a new date is to be agreed
The under-18s CUP FINAL vs TBC is also to be postponed to accommodate players for the Wynn Cup team.
---
UNDER-18s SMASH LEAGUE RECORD
Oakworth under-18s faced Skipton in the T20 competition for the u-18 Championship at Wide Lane and batted first. Half-centuries for Ellis Marshall [28 balls] and Lucas Keslinke [25 balls] were the pace-setters but the back up from James Powell 41 [20 balls], Bilaal Khan 33 [26 balls] and Bradley Powell 25 [11 balls] propelled their score to 238-5 to eclipse the previous UAJCA u-17/18 record set in 2009 by Sutton's Championship team against Haworth. Skipton gamely pursued but expired at 110-9 [Capt Ben Southern 27 no]
---
JOE TO PLAY FOR COUNTY
Oakworth CC' Joe Powell has made it through the Regional Cricket selection process into the County under-11s squad.
Joe, who plays for North Yorkshire will be hoping to follow other UAJCA players and make his presence felt and gain a long term position for the County. The really hard work starts now!
Superbly well done Joe. Congratulations
---
15s INTO FINAL AFTER ROUT OF STEETON
Our table-topping u15s have seen off a somewhat weak challenge from a young Steeton team in the Hargreaves Cup semi-final at Wide Lane. Their innings lasted just 12.2 overs and totalled only 26 runs. Left-armer Jake Holroyd snapped up 4-12 from his 4 overs whilst James Powell finished off the resistance with 3-0 alongside 2-8 from offie Elis Jones. Waleed Raja picked off 1-6.
Jake Keslinke 24no and Louis Stephens 2 no finished the job in just 17 balls.
The Final will be held at Settle CC on Sunday 27th June [2pm] against holders Great Horton Church who defeated Embsay in the other semi-final. We have only won this Cup once before, in 1995, 26 years ago.
---
OUR u-10 TAVS
Oakworth's three u-10 Tavs Sam, Albie & Jack, pictured at Goldsborough CC in their win over Nidderdale by 6 runs. Well done boys.
#Fly the OCC flag
---
WORTH VALLEY 11s DERBY WIN
The Oakworth vs Haworth rivalry continued at under-11 with a resounding win for our more experienced side. Oakworth were first up and Archie and Albie kicked off with 13 runs with Archie out once. Phoebe and Jacob batted serenely adding a further 15, 10 to Jacob. Leo and Arthur went further with 17, a startling 15 to Arthur with 3 fours. Leo was out once with further dismissals for Harry and Patrick whilst they posted 17, 14 to Harry. Final pair Joe and Jack kept their wickets intact, contributing 11 runs, 9 to Joe. The pick of the Haworth bowlers were Venus Weerapulli whose leg-spin was immaculate [1-9] and James Delves [2-10]. The final tally was 272-4 [Nett 104-4].
With the ball in hand our attack was irresistible and was led by a supremely dominant Arthur with the all-time third best performance in the entire League of 6 for 11. All in all we took 16 Haworth wickets with 2 each for Joe, Albie, Jacob and Phoebe. Jack and Archie each had one. Last man Harry Jennett pitched in 15 for Haworth but was out 4 times. Venus Weerapulli batted with determination for a classy 10 runs. Haworth posted 132-16 [Nett 60-16].
---
15s WAGON ROLLS ON
Yorkshire player Archie Phillipson made just 4 whilst team-mate Richard Bradley [20] top scored for his Settle team. The Welsh Wizard Elis Jones grabbed 4-11 from his 4 overs to have the Ribblesdalers back in the hutch for just 67. Jake Holroyd again excelled with 2-7 with other wickets for Waleed and Jacob. The batting was centred on form-man Jake Keslinke who made a smooth 36 no as a 9-wicket win unfolded, Jacob Davies adding 13 to our cause.
The following day it was over to Earby for a match with another Ribbledsale team. This time it was unsung Asim Khan who stole the limelight with 4-6 as Earby crumpled to 52-9.Only Rowan Lazenby reached double figures. The target was reached in 46 balls by the Jake and James show who both scored 25no.
---
ONE ALL WITH GHC
Allerton Road proved a happy hunting ground for Oakworth under-9s as they came away with a resounding win over Cup-Holders Great Horton Church. The home side posted 230-5 [Nett 55-5] with Imaad Ijaz top batsman with 10. Wickets fell to Zak, Beau, Sam with top gun Noah Goldthorpe with 2-8 in his 2 overs. With the bat our young team really excelled. Surprise packet Eli kicked off with 11 backed by Beau with 3no in his second match. Neve [7] and Leo [8no] looked a solid pair and then Zack and Noah put bat to ball with Zack making 20 and Noah 9. With a substantial lead Sam and Jack had little pressure and they added 9 apiece. A total of 264-5 was our reward for a scintillating display. Sadly the scorer was unable to keep with the score and misled everyone indicating a score of 238, still a win but not reflective of our dominance.
At the same ground on Tuesday the under-11s sought to reverse the clear-cut loss at Wide Lane and a pre-match knock-up mishap to skipper Joe Powell kept him from batting. Freddie Greathead stepped into the breach and picked up 12 runs with support from emerging Patrick Ferguson & James Gilibrand. Archie Dobson & Albie Ellis added 17 more. Lauren Hunter again looked on song and with Jacob Wilkinson another 13 was added to the tally. Final pair Harry Robinson & Haroon Nazam picked up another 8 to reach 229-6. Opener Zaid Khan looked calm and serene getting his side off to a good start with 23 and Hamza Mahmood pitched in another 15 as all the GHC batsmen made runs. But with six wickets falling Oakworth were still in the match thanks to supreme bowling from fast-rising Patrick Ferguson who nabbed 2-1-4-3. Archie and Albie had one each with 1 run out. In a tense finish GHC tallied 239 to again the points but this time by only 10 runs
---
CUP HIGHS AND LOWS FOR 13s.
30 hours after the narrow victory over Sutton, the under-13s bowed out at Skipton in the QF. Skipton posted 119-5 with Taverners Feeney 28 and Birks 25 in top form. But there was plenty more support despite wickets for Danny, Ollie, Eli, Lauren and Zak. Four of our batsmen got into double figures, Eli, Tom, Ollie and Lauren but none were able to go big and with 5 others getting ducks we subsided to 79 all out. Owen Ashdown claimed his second hat-trick in two days to add to 3-13 for Charlie Price.
The visit of Sutton in the delayed Hindle Cup 1st round tie proved a roller-coaster of an event. With 3 wickets down for 6 runs to the batsman our total would have looked odd as there was 30 on the board thanks to some generous gifts from the Sutton bowlers. Then Logan Scarborough back up the aggression of Ollie Thompson and the tins started to twirl. Ollie made 26 [4 fours and a six] with Logan registering a solid 21 no. The final extras total was 50 in our impressive 105-4. Charlie Whitaker was the pick of the Sutton players with 2-4 and a run out. Whitaker went on to retire at 25 no to give his team's chances a real boost. Those chances increased further with Ikram Daulatzai adding 28 no to the Sutton cause. With just 8 needed from 3 overs Sutton had the game in their but seriously tightened Oakworth bowling held them up and their final tally was 102-4, 3 runs short of their target. The whole bowling attack were excellent in the latter half of the Sutton knock with Lauren Hunter again seriously into the action with 3-0-7-2. Unsung heroes Harrison Crossley, Danny Snowden, Riley Collier, Eli Henson and opener Zakarya Wajid all deserve high praise. In the quarter-final Oakworth will be away at Skipton today Monday.
---
MATCH REPORTS.
This week we saw the under-11s progress to the semi-final of the Barritt-Stephenson Cup after a rapid-fire win over Bradley, who were bowled out for 15. Top guns were Freddie Greathead and Archie Dobson, each with a couple of scalps. Archie and debutant Jacob Wilkinson knocked off the runs with one down. On 14th June we will be away at either Skipton or Crossflatts for a place in the Final. Later the under-11s took on new side Long Lee and the bowlers again shone with 13 wickets between them. Pride of place again went to Archie with 3 for 2 with 2 wickets each for Sam, Freddie, Joe and Haroon as Long Lee posted 131-13. The batting was also on song led by Joe [19], Archie [16] and fast-developing Patrick [13] to post a big total of 292-2.
The under-9s finally got back into action with a Pairs Cup win against Harden. Their skipper George Gerdes led them to 202-7 with 12 runs. Chief destroyer was Zack with 3 for 2 but there was a first wicket for Eli Kent and a stunning debut for Noah Goldthorp. Jack and Cody also grabbed a victim. But the batting was a revelation. The hugely impressive Eli and Noah really set the tone with 6 runs and no wickets lost. Warren-Firth brothers Zack and Cody each were bowled but added 5 to the total. Leo and Jess were just awesome grabbing a total of 25 with Leo in really fine form with 17 runs. Then skipper Jack and Sam competed well to pick up another 12 runs for a satisfying 251-2.
On Sunday Beau, Joe, Oliver and Evie will make their debuts at sunny Grassington.
---
MATCH REPORTS.
Harden u-11s visited Wide Lane and were well led by Will McPherson with 12 whilst for Oakworth Albie Ellies continued his excellent bowling form as did skipper Joe Powell. Archie Dobson got in on the act with a brace and back in the team Haroon Nazam added to his career wicket tally. Harden returned 199-7. But our batting got back to normal form after the nightmare at Steeton. Captain Joe Powell again lead from the front with 16 with Harry Robinson [15] showing vastly improved style. Lauren Hunter [10] teamed up with Phoebe Raby [3] in an all-girl contribution at a decent tempo. Under-9 Jack Godden added a stunning 8 whilst debutant Jacob Wilkinson settled in nicely with 2. Our later order piled on the runs to reply with 269-3 and a clear-cut win by 70 runs
24 hours later the under-15s took on Embsay, batting first. Two early victims for Hammad Hussain set us back a little but an impressive Elis Jones [31] and James Powell [23] got us back on track. Louis Stephens return to action gained more traction with 12 runs and loanee Freddie Kettle stroked a late 10 to carry us to 91-6 [Hussain bagged 3-8].
Embsay's chase was seriously held up by our bowlers with Ben Elphee particularly impressive 3-0-7-1 combining well with James. Freddie Kettle also grabbed a wicket and with 3 run outs when the Home side became desperate to increase the run rate, pegged them back to 72-5. Only Husssain could resist with 36no albeit from 52 balls.
---
MATCH REPORTS.
A strong Steeton u-11 batting line up went off like a train and reached a score of 244 [Archie Cox 23] before Oakworth bowlers' really got to grips. And boy did they get to grips! Albie Ellis started the rot and claimed 4-11 whilst skipper Joe Powell powered 4-6 with third Taverner Freddie Greathead grabbing 3-8. Phoebe Raby added a 12th wicket and Steeton were pegged right back to 187-12 after a late 16 for Elliot Howarth. But our batting proved a horse of a different colour. Only Joe Powell [15no] made any impression on the Steeton bowlers but nevertheless managed to lose only 7 wickets. This allowed Steeton to claw themselves back into the game and the seventh wicket, that of Harry Robinson on the last ball of the match produced a 188-7 score and the narrowest 1 run win for our team! Phew!
The following night at Wide Lane the under-13s took on Harden and the visitors struggled to score quickly against our accurate bowling. Pick of our pack was Ollie Thompson 2 maidens and Lauren Hunter with 2-3. Dan Snowden 1-9, Zak Wajid 1-5 & Jack Judson 0-1 also performed well. Chasing a score of 47-5 took 10 overs to gain the win with Jack [10] and Ollie [11] taking us close, for Tom Raby [5no] and Rayden Smith [6no] to finish the job at 48-5. A first win for 2021.
---
MATCH REPORTS.
A much improved batting display from Oakworth under-13s at Steeton resulted in a sterling posting of 100-5. Ollie Thompson [26] hit top form with strong contributions from Jack Judson [21no] and Logan Scarborough [16]. The bowling didn't quite match the batting phase as a strong Steeton top four passed our total without loss. Nevertheless there were frugal spells from Jack and Danny Snowden.
---
OPENING MATCHES.
Oakworth under-13s visited Crossflatts and copped a 36-run defeat. The home side posted 108-1 with our boys tallying 72-9. Tom Raby proved the best on show with 25no and he had backing from Logan Scarborough with 13.
The under-15s though found their feet with a thumping win against neighbours Oxenhope, who posted 88-2. Jake Keslinke 38 and Jacob Stephens 37 helped knock them off in just over 9 overs at 89-0.
---
MAGNIFICENT SEVEN OAKWORTH LADS IN REGIONAL SQUADS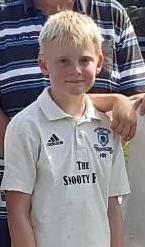 Oakworth CC is delighted to have learned from YCB that Joe Powell has again been selected by North Yorkshire for their under-11 squad. Harry Robinson again makes the West Yorkshire under-11 squad and this year is joined by Haroon Nazam. James Powell, Jacob Stephens & Waleed Raja have also been selected for the under-15s squad [sadly no picture].
Tom Raby's left-arm bowing has impressed the coaches and he too has made the under-13 squad.
Well done boys, the hard work is underway, no room for slacking now!!
---
JUNIOR 2021 FIXTURES RELEASED
UAJCA fixtures have now been released and are available on this site and on Play-Cricket.
The under-18s team is to play four fixtures using the HUNDRED format, followed by six matches using the T20 format, which will also apply in the William Spencer Cup competition.
The Under-15 league will operate in one Conference of 12 teams, providing 11 fixtures each. The team will be a hybrid of Oakworth and Harden players with 3 matches at each venue. First up are Oxenhope at Wide Lane.
At under-13 the usual two-conferences [North & South] will apply with 10 fixtures each. The opening match will be on Sunday 2nd May against Crossflatts at Ryshworth Park.
Pairs cricket begins with the under-11s at Home to Crossflatts on Thursday 6th May. The younger brigade, the under-9s will draw stumps against on the following Sunday [9th] against Settle.
The popular UAJCA Festival will again be staged on Sunday 20th June for u9, u11 & u13 teams in new format with more teams.